$ for Peace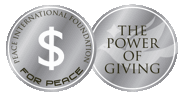 A continuous fundraising campaign aimed at supporting HK and the world's underprivileged people gain access to basic needs' food, health & sanitation, shelter and education. Targeting at both the private and public sectors, organisations and individuals, $ for Peace seeks to encourage all members of the community to contribute.
"A journey of a thousand miles begins with a single step" (Lu Tzu)
A dollar donation in itself may not have a noticeable significance but when combined with other dollar donations, it is the first step needed for bringing hope and changing lives.
$ for PEACE campaign provides everyone with an equal opportunity to make a positive impact through collective contribution. Each time you donate just a dollar, encourage your family, classmates, friends and colleagues to do the same – the total amount raised can make a real difference and when this is a continuous effort, the potential for change is unlimited.
In addition to serving as a platform to provide peace related knowledge, PIF seeks to directly assist with financial short-term development and disaster relief. $ for PEACE is an on-going fundraising campaign that aims to supports this by helping the world's underprivileged gain access to basic needs and services: food and nutrition; shelter; healthcare & sanitation and education.
We focus on third-world countries where communities are subject to living with poverty and underdeveloped infrastructure. Through our assistance, they can receive the life-saving essentials needed but also, sow the first steps for transformation and self-sufficiency.
We welcome you to join hands with us in this campaign. Look out for collection boxes throughout Hong Kong at different locations ranging from educational institutions through to retail and F & B outlets. More information about $ for PEACE campaign will be available soon. Please contact us if you wish to help us to kick start this campaign.
Your $ for PEACE will help the world's poorest but more importantly, your energy to spread the word will be key to bringing hope,  get involved and start changing lives.