Miss Vivienne Tam
Peace Ambassador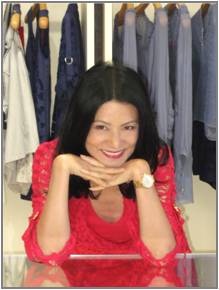 Vivienne Tam, in the words of fashion critic and curator Richard Martin, "possesses an idealistic globalism that transcends politics and offers a more enchanted, peaceful world."
Vivienne Tam was born in Canton, China and moved to Hong Kong when she was three years old. Tam's immersion into this once British colony, a convergence of cultures, has become the essence of her East-meets-West signature style. Vivienne's love of fashion started at an early age and never waned. She earned her fashion degree from Hong Kong Polytechnic University and moved to fashion's global capital, New York.
In 1994, Vivienne Tam launched her signature collection of Eastern inspired clothing with a modern edge on the New York runways. The following year, she introduced the influential "Mao" collection that triumphantly crossed over from the fashion world into the art world. Then in 1997, Tam launched the venerable Buddha collection and the public and celebrities around the world embraced both collections. Pieces of the collections were ultimately incorporated into the permanent archives of the Andy Warhol Museum in Pittsburgh, The Museum of FIT and the Metropolitan Museum of Art in New York, and the Victoria and Albert Museum in London.
In 2000, HarperCollins published Vivienne Tam's award-winning CHINA CHIC, her memoir and love letter to Hong Kong, China and East-meets-West culture (reprinted in 2008). In the first revolutionary fusion of Fashion and Technology, Tam joined Hewlett Packard and introduced the world's first Digital Clutch incorporating the designs of her Peony runway collection. And then again in 2010, Tam introduced the Butterfly Lovers edition. This collaboration is the most lauded HP consumer product launch in its history.
In addition to specialty stores around the world, Vivienne Tam is sold at the designer's signature boutiques. The Vivienne Tam flagship in New York City is located at 40 Mercer, the Jean Nouvel-designed Soho building. Tam operates more than 40 boutiques throughout Asia. Vivienne Tam has made a career of exploring the creativity and positive energy that comes from mixing people and cultures. She has made immeasurable contributions to the international fashion arena by offering stylish and high-quality designs that blend Eastern culture and Western modernity. Her passion and devotion to the arts, along with her entrepreneurial spirit has enabled her to create exquisite, wearable fashions while inviting consumers to experience the inspiration behind each collection. Vivienne Tam is truly one of the world's most passionate and symbolic designers in fashion today.